Moonshine Ranch – Protaras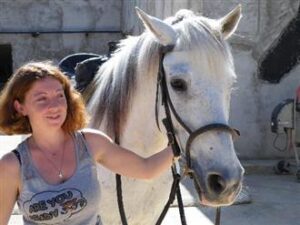 Ride a Horse Ride into the beautiful Landscape in the undiscovered hinterland and hills above Protaras or to Kavo Gkreko.
Moonshine Ranch has been long established on the outskirts of Protaras.
Coming From Ayia Napa take a left turn just before descending into Protaras. There is a Large Sign there and drive up a short distance of maybe 100 or 200 meter. You will find Moonshine Ranch on your Left Side.
It offers the most fantastic views over the landscape as far away as Kavo Gkreko.
The Horses are available to hire on an hourly basis, but speak to the Owners or Manager and they will tell you all about it and give you some local Info.
Moonshine Ranch is also located on the E4 European Hiking Trail-Aphrodite's Trail (which on the Cyprus Part of the Trail goes from Larnaca Airport to Paphos Airport)
Best times to see the beautiful Nature is Spring as everything is green (and yellow).
Contact Moonshine Ranch Protaras on +357 99 605042




See what our Customers are saying about us on Tripadvisor: