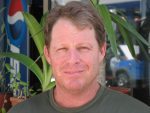 Short Business Description
Archaeology, Bird-watching, Nature Monuments, Walking, Hiking/Trekking, 4x4 and/or Minibus "off-the-beaten-track" explorations, Standard "Mainstream" Sites, Ethnography, Individual, Small Group and Family-oriented tours.
Long Business Description
Former Archaeologist with 20 years excavation and archaeological survey experience in coastal and river valley areas of Cyprus and founder of first tourism company focusing on "off-the-beaten-track" environmental tourism on the island. Now working free lance, and specializing in mainstream and wilderness sites with emphasis on history, archaeology and landscapes. Special Interests: Archaeology, Geology, Ornithology, Walking and 4x4 Explorations. Emphasis on: High-level/No-Bull information, Fun, Adventure (for all levels), contact with Nature and Animals. Style: Individually-based tourism with Empathy, Sophistication and an eye towards showing the Wow-factor of Cyprus with lowest negative impact on environment.
Send Message to listing owner