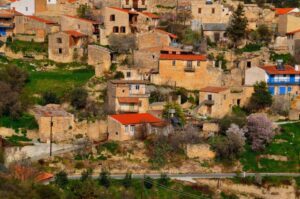 Vouni, a picturesque wine village with cobbly alleys, traditional houses with wooden doors, large windows, narrow balconies and inside yards, attracts both locals and foreigners with its rich architectural heritage, who see it as an outdoor museum of the life and culture of the most recent centuries.
It is located in the wine villages of the Lemesos District, on an altitude of 800 metres above sea level. The village spreads on a slope with a southern gradient. The village's landscape is "impressive with its high peaks reaching a height of 1153 metres at the location 'Moutti tou Afami', north of the settlement, and the beds of the rivers 'Chapotami' in the west and 'Kryos Potamos' in the east".
The naming of the village is linked to its location. According to the Great Cyprus Encyclopaedia, the village was named 'Vouni', "which means "low mountain", due to the location where it is built.
Vouni Accommodation
Book your Hotel,Apartment or Villa in Vouni online. No reservation costs. Great rates.
Get Instant Confirmation · Read Real Guest Reviews · We speak your language
Types: Hotels, Apartments, Villas, Hostels, Resorts, B&Bs. Click on the Hotel or Villa Name for a more detailed description.