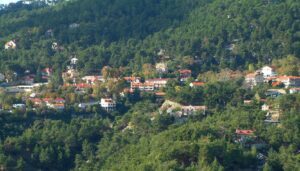 Located in the Troodos mountain range, in the Lemesos (Limassol) district, the village of Platres sits at an altitude of 1.100 metres. It can be reached from Lemesos by following the B8 route, and then the F825 for Kato Platres.
The picturesque village resembles an amphitheatre, with the lower part of the village having one altitude and the upper part having another, thus separating it into Pano (upper) and Kato (lower) Platres. It is a popular holiday destination and offers accommodation in quaint hotels.


There are various versions of where the village takes its name; from a 'platria' (saleswoman) who lived there; from the French word 'platre-s' – ('white plaster'); from monks in white known as 'Platrai' during Frankish times, or from the word 'platsa'.
Aside from the nature trails, Platres has one of the highest waterfalls in Cyprus – Caledonia – believed to be named by English or Scottish visitors to the area in 1878. The village is also filled with charming old buildings, and has a winery in Kato Platres.
Visitors will also enjoy its unique attractions, which include a chocolate workshop, an adventure rope park, and an exhibition at its Cultural Centre which incorporates old photos of the village, and of the Greek poet Giorgos Seferis.
Platres Accommodation
Book your Hotel,Apartment or Villa in Platres online. No reservation costs. Great rates.
Get Instant Confirmation · Read Real Guest Reviews · We speak your language
Types: Hotels, Apartments, Villas, Hostels, Resorts, B&Bs. Click on the Hotel or Villa Name for a more detailed description.