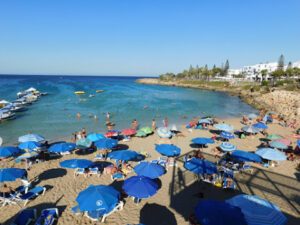 Protaras in Cyprus is a resort town in eastern Cyprus, known for its beaches and for Fig Tree Bay with its old, lone fig tree. Above the bay are excavated Hellenistic tombs. To the northwest, atop a rock, the limestone Church of Profitis Ilias marks one end of a nature trail that leads to Konnos Beach. To the south, Cape Greco National Forest Park has clear waters and protected pine forest trails.



Protaras Accommodation
Book your Hotel,Apartment or Villa in Protaras online. No reservation costs. Great rates.
Get Instant Confirmation · Read Real Guest Reviews · We speak your language
Types: Hotels, Apartments, Villas, Hostels, Resorts, B&Bs. Click on the Hotel or Villa Name for a more detailed description.
| Name | Area |
| --- | --- |
| Abrielle Villa 17 | Protaras |
| Abrielle Villas and Apartments | Protaras |
| Adam's Garden | Protaras |
| Adams Gardens House 8 | Protaras |
| Adelais Bay Hotel | Protaras |
| Adrienne Villa | Pernera |
| Advantage villa | Protaras |
| Agios Ilias Apartment | Paralimni |
| Akefalou Bay Villa | Protaras |
| Alakati Villa | Famagusta |
| Alia Seafront Suite | Protaras |
| Alva Hotel Apartments | Protaras |
| Amadora Luxury Villas | Protaras |
| Amanda Villa | Protaras |
| Amigos Apartment Mythical | Protaras |
| Amore Hotel Apartments | Protaras |
| Anastasia Beach Hotel | Protaras |
| Anastasia Hotel Apartments | Protaras |
| Andreas Villa | Protaras |
| ANEMONI 10 CENTRAL PROTARAS CLOSE TO FIG TREE BAY | Protaras |
| ANEMONI 11 CENTRAL PROTARAS CLOSE TO FIG TREE BAY | Protaras |
| ANEMONI 12 CENTRAL PROTARAS CLOSE TO FIG TREE BAY | Protaras |
| ANEMONI 9 CENTRAL PROTARAS CLOSE TO FIG TREE BAY | Protaras |
| Anthorina 21 | Protaras |
| Anthorina Villa 1 | Protaras |
| Anthorina Villa 10 | Protaras |
| Anthorina Villa 12 | Protaras |
| Anthorina Villa 13 | Protaras |
| Anthorina Villa 15 | Protaras |
| Anthorina Villa 16 | Protaras |
| Anthorina Villa 17 | Protaras |
| Anthorina Villa 18 | Protaras |
| Anthorina Villa 19 | Protaras |
| Anthorina Villa 2 | Protaras |
| Anthorina Villa 3 | Protaras |
| Anthorina Villa 4 | Protaras |
| Anthorina Villa 5 | Protaras |
| Anthorina Villa 6 | Protaras |
| Anthorina Villa 8 | Protaras |
| ANTHORINA VILLA 9 | Protaras, Cyprus |
| Antigoni Hotel | Protaras |
| Antonia Villa | Protaras |
| Anya Apartment | Protaras |
| Apartment Apollo | Protaras |
| Apartment Athina | Protaras |
| Apartment Carissa | Protaras |
| Apartment Coralli Pearl | Protaras |
| Apartment Dina | Protaras |
| Apartment Diva | Protaras |
| Apartment Gloria | Protaras |
| Apartment Mariner | Protaras |
| Apartment Meridian | Protaras |
| Apartment nearby Golden Coast | Protaras |
| Apartment Pelican | Protaras |
| Apartment PEORE202 | Pernera, Paralimni |
| Apartment PRCORA006 | Protaras |
| Apartment PRCORA208 | Protaras |
| Apartment PRCORA308 | Protaras |
| Apartment PRPR53 | Protaras, Paralimni |
| Apartment PRTHA103 | Protaras |
| Apartment PRTHA301 | Protaras |
| Apartment PRTHA302 | Protaras, ParalimnI |
| Apartment PRTHA306 | Protaras, Paralimni |
| Apartment Sabina | Protaras |
| Apartment Triton | Protaras |
| Aphentrika Apartments | Protaras |
| Apolline Villa | Pernera |
| Aquablu Villa | Protaras |
| Arcadia 1 Holiday Apartment | Protaras |
| Arcadia close | Protaras |
| Architect's Villa | Protaras |
| Arpa Town Villa | Protaras |
| Artemis Hotel Apartments | Protaras |
| Artemis Villas | Protaras |
| Artemisia Villa | Protaras |
| Artisan Resort | Protaras |
| Aster Suite | Protaras |
| Asteria Villa by the Sea | Protaras |
| Astreas Beach Hotel Apartments | Protaras |
| Athena Beach Villas | Protaras |
| Athina 8 | Protaras |
| Aurora Apartment | Protaras |
| Avra Villa 54 | Protaras |
| Avra Villas | Protaras |
| Ayia Triada View | Protaras |
| Ayios Elias Cottage Homes | Protaras |
| Ayios Elias Garden | Protaras |
| Ayios Elias Pearl | Protaras |
| Ayios Elias Views | Protaras |
| Azure Beachfront Suite | Protaras |
| Azure Luxury Pool Villa | Protaras |
| Bay View Apartment | Protaras |
| Bay View Villa | Protaras |
| Bay View Villa | Protaras |
| Beach Front Bella Vista | Protaras |
| Beachfront Imperial Villa | Pernera |
| Beachfront Trident 2 | Protaras |
| Beachfront Villa Balsa | Protaras |
| Beachfront villa Del Mare | Protaras |
| Bellanca Villa | Protaras |
| Blue Dream Apartment | Protaras |
| Blue Electra Complex | Protaras |
| Blue Family Apartment | Protaras |
| Blue Peter Apartments | Protaras |
| Blue River Apartment | Protaras |
| Blue Water 10C | Protaras |
| Blue Water Villas | Protaras |
| Bougainvillea | Protaras |
| Bowker Apartment | Protaras |
| Broadway Villas | Protaras |
| Buena Vista Villa | Protaras |
| Cape Greco Villa | Protaras |
| Cape View Getaway | Protaras |
| Capo Bay Hotel | Protaras |
| Capo Bay Villa | Protaras |
| Captain Karas Holidays Apartments | Protaras |
| Casa Di Flores | Protaras |
| Casa Di Kappari | Protaras |
| Casa di Katja | Paralimni |
| Cavo Maris Beach Hotel | Protaras |
| Central Protaras Front Line | Protaras |
| Chara Elizabeth No 2 Villa | Protaras |
| Charis Appartment | Protaras |
| Chateau Blanc | Protaras |
| Cherise Villa | Protaras |
| Chloe Luxury Villa | Protaras |
| Christina Apartment | ???????? |
| Chromata Lagoon | Protaras |
| Clea Apartment | Protaras |
| Cobalt Suite | Protaras |
| Colette Villa | Protaras |
| Constantaras Apartments | Protaras |
| Constantinos the Great Beach Hotel | Protaras |
| Coralli Spa Artemis Apartments | Protaras |
| Coralli Spa Resort | Protaras |
| Coralli Spa Resort and Residence | Protaras |
| Cosima Villa | Protaras |
| Cozy Stay Apartment | Protaras |
| Crown Resorts Elamaris | Protaras |
| Crystal Bay Villa | Protaras |
| Crystal Blue 16 | Protaras |
| Crystal Blue 18 | Protaras |
| Crystal Springs Beach Hotel | Protaras |
| Cy-Blue | Protaras |
| Cyprus Beach Villas | Protaras |
| Damara Villa | Protaras |
| Dandelion Cottage | Protaras |
| DebbieXenia Hotel Apartments | Protaras |
| DebbieXenia Hotel Apartments Annex | Protaras |
| Delfini Villas | Protaras |
| DespoinaL | ???????? |
| Donatella | Protaras |
| DPS 04 Protaras Holiday Apartment | Protaras |
| Eco Villa | Protaras |
| Electra Villa | Protaras |
| Elena Villa 8 | Protaras |
| Elma Villa | Protaras |
| Emerald Beach Villa | Protaras |
| Esperos Villa 10 | Protaras |
| Eternity Apartment | Protaras |
| Evalena Beach Hotel | Protaras |
| Evelina Apartment | Protaras |
| Fig tree apartments | Protaras |
| Fig Tree Bay Apartment | Protaras |
| Fig Tree Bay Apartments | Protaras |
| Fig Tree Bay Villa | Protaras |
| Fig Tree Bay Villa | Protaras |
| Fig Tree Bay Villa 2 | Protaras |
| Fig Tree Bay Villa 3 | Protaras |
| Fig Tree Bay Villa 4 | Protaras |
| Fig Tree Bay Villa 5 | Protaras |
| Fig Tree Beach Apartment 1 | Protaras |
| Fig Tree Beach Apartment 2 | Protaras |
| Fig Tree Beach Apartment 3 | Protaras |
| Fig Tree Sunny Apartment | Protaras |
| Flisvos Beach Apartments | Protaras |
| Flokkas Hotel Apartments | Protaras |
| Flouressia Gardens | Protaras |
| Fotini Villa | Paralimni |
| Gabriel Villa | Protaras |
| Galina Villas | Protaras |
| George's Villa | Protaras |
| Georgia Hotel Apartments | Protaras |
| Georgia Palm | Protaras |
| Gold Sand Villa | Protaras |
| Golden Coast Beach Hotel | Protaras |
| Great Kings Resort Apartment 10 Block 19 | Protaras |
| Great Kings Resort, Apartment B19 | Protaras |
| Great Kings Resorts | Protaras |
| Grecian Park | Protaras |
| Green Bay Family's Villa | Protaras |
| Green Bay Seafront Apartment | Protaras |
| Green Bay Seaview Villa | Protaras |
| Green Bay Villa | Protaras |
| Green Bay Villas | Protaras |
| Greko Mare 17 | Protaras |
| Greko Mare Front Line | Protaras |
| Halle Villa | Protaras |
| Hann's Villa | Protaras |
| Harry's Hotel | Protaras |
| Helene Villa | Protaras |
| High View ground floor apartment | Protaras |
| Holiday Home CAVKON5 | Protaras, Paralimni |
| Holiday Home PEDAP1 | Pernera |
| Holiday Home PESUN9 | Pernera, Protaras |
| Holiday Home PRGEO4 | Protaras, Paralimni |
| Honor Villa | Protaras |
| House Protaras | Protaras |
| Idalia Villa | Protaras |
| Iliada Beach Hotel | Protaras |
| Infinity Villa | Protaras |
| Iris Beach Hotel | Protaras |
| Ismini Lagoon Villa | Protaras |
| Ithaca Villas | Protaras |
| Jacaranda Hotel Apartments | Protaras |
| Jasmine By the Sea | Protaras |
| Jason Villas | Protaras |
| Kalamies Beach Villas | Protaras |
| Kalika Villa | Protaras |
| Kama Apartments | Paralimni |
| Kama Apartments | Paralimni |
| Kama Lifestyle Hotel Apartments | Protaras |
| Kapetanios Bay Hotel | Protaras |
| Kapparis Beach Front Villa | Protaras |
| Kapparis Family Holidays | Protaras |
| Kapparis Holiday Apartment | Protaras |
| Kapparis Seaside Stories | Protaras |
| Kapparis Summer Breeze | Protaras |
| Katharyn Villa | Pernera |
| Katia Resort Apartment | Protaras |
| Katie Palm | Protaras |
| Kendal Apartment | Protaras |
| Kerri W Seafront Villa | Protaras |
| Kirki House | Protaras |
| Kitsios Villas with private pool No2 | Pernera |
| Knossos Villa | Protaras |
| Konnos Beach Villas | Protaras |
| Konnos Blue | Protaras |
| Konnos Breeze | Protaras |
| Konnos Flat | Protaras |
| Konnos Galini Holidays | Protaras |
| Konnos Princess | Protaras |
| Konnos Views | Protaras |
| Konnos Views 2 | Protaras |
| Konnos Villa | Protaras |
| Kos 3 Villa | Famagusta |
| La Vita Villas | Protaras |
| Lantiana Gardens ApartHotel | Protaras |
| Laura Palm | Protaras |
| Leana Front Line Villa | Protaras |
| Lee Apartment | Protaras |
| Leonies By The Sea | Protaras |
| Liakàda | Protaras |
| Light & Blue Gardens | Protaras |
| Liora Suite | Protaras |
| Livas Hotel Apartments | Protaras |
| Louis Althea Beach | Protaras |
| Louis Althea Kalamies Luxury Villas | Protaras |
| Louis Nausicaa Luxury Villas | Protaras |
| Luxury Bay View Villa 20 Right On ?he Beach | Protaras |
| Luxury Bay View Villa 28 Right On The Beach | Protaras |
| Luxury Villa in Kapparis | Protaras |
| Lydias Beach House | Protaras |
| Maistrali Hotel Apartments & Bungalows | Protaras |
| Make yourself at home | Protaras |
| Malama Beach Holiday Village | Protaras |
| Malama Gardens | Protaras |
| Malama Seaview Villa | Protaras |
| Mandalena Hotel Apartments | Protaras |
| MANDALI 11 VILLA | Protaras |
| Mandali Hotel | Protaras |
| Mandali Villa | Protaras |
| Maouris Hotel Apartments | Protaras |
| Maouris Villa | Protaras |
| Marelia Apartments | Protaras |
| Marianna Suite | Protaras |
| Marias Villa | Protaras |
| Maricosta Apartments | Protaras |
| Maricosta Villas | Protaras |
| Marie Villa | Protaras |
| Marilena Holidays | Protaras |
| Marina Estate | Protaras |
| Marlita Beach Hotel Apartments | Protaras |
| Marymina Villa | Protaras |
| Meena Villa | Protaras |
| Melini Hotel Apartments | Protaras |
| Melissa | Protaras |
| Melpina's Grove | Protaras |
| Mesogeios Villa 2 | Protaras |
| Mesogios Villa 30 | Protaras |
| Mesogios Villa no26 | Protaras |
| Michelle 10 | Protaras |
| Michelle 8 | Protaras |
| Mike & Lenos Tsoukkas Luxury Apartments | Protaras |
| Mike & Lenos Tsoukkas Luxury Villas | Protaras |
| Milos 18 | Protaras |
| Mimoza Seafront Villa | Protaras |
| Molly's Villa | Protaras |
| Monte Elias 12 Apartment | Protaras |
| Monte Elias Bungalow no. 59, Profitis Elias, 4545 Protaras, Cyprus | Protaras |
| myExclusiveVilla 683 | Protaras |
| Mylos 26 | Protaras |
| Mylos Villa | Protaras |
| MyroAndrou Hotel Apartments | Protaras |
| Myrtiana Villa | Protaras |
| Mythical Sands | Protaras |
| Mythical Sands Artemis Apartments | Protaras |
| Mythical Sands Bungalow | Protaras |
| Mythical Sands Resort | Protaras |
| Mythical Sands Resort - Elia Apartment | Protaras |
| Mythical Sands Resort - Swahili Apartment | Protaras |
| Mythical Sands Resort Ilona Apartment | Protaras |
| Nadia Villa 24 | Protaras |
| Narcissos Bay View Villa | Protaras |
| Narcissos Villa 2 | Protaras |
| Narcissos Villa 3 | Protaras |
| Narcissos Villa Doria | Protaras |
| Narcissos Waterpark Resort | Protaras |
| Navsika Villa No 2 | Protaras |
| Naxos NV3 | Protaras |
| Nicholas Seaview Apartments | Protaras |
| Nicia Villa | Protaras |
| Nicole Villa | Protaras |
| Nora Villa | Protaras |
| Noufaro Luxury Villa | Protaras |
| Ocean Pearl | Protaras |
| Oceania Villa | Protaras |
| Oceanview Apartment 122 | Protaras |
| Oceanview Apartment 171 | Protaras |
| Oceanview Apartment 172 | Protaras |
| Oceanview Apartment 175 | Protaras |
| Oceanview Luxury Villa 073 | Protaras |
| Oceanview Townhouse 210 | Protaras |
| Oceanview Villa 007 | Protaras |
| Oceanview Villa 010 | Protaras |
| Oceanview Villa 011 | Protaras |
| Oceanview Villa 012 | Protaras |
| Oceanview Villa 015 | Protaras |
| Oceanview Villa 018 | Protaras |
| Oceanview Villa 028 | Protaras |
| Oceanview Villa 030 | Protaras |
| Oceanview Villa 035 | Protaras |
| Oceanview Villa 045 | Protaras |
| Oceanview Villa 060 | Protaras |
| Oceanview Villa 061 | Protaras |
| Oceanview Villa 067 | Protaras |
| Oceanview Villa 069 | Protaras |
| Oceanview Villa 080 | Protaras |
| Oceanview Villa 089 | Protaras |
| Oceanview Villa 100 | Protaras |
| Oceanview Villa 109 | Ayia Napa |
| Oceanview Villa 113 | Protaras |
| Oceanview Villa 114 | Protaras |
| Oceanview Villa 116 | Protaras |
| Oceanview Villa 134 | Protaras |
| Oceanview Villa 138 | Protaras |
| Oceanview Villa 154 | Protaras |
| Oceanview Villa 164 | Protaras |
| Oceanview Villa 165 | Protaras |
| Oceanview Villa 166 | Protaras |
| Oceanview Villa 167 | Protaras |
| Oceanview Villa 173 | Protaras |
| Oceanview Villa 183 | Protaras |
| Oceanview Villa 196 | Protaras |
| Oceanview Villa 203 | Protaras |
| Oceanview villa 206 | Protaras |
| Oceanview villa 363 | Protaras |
| Odessa Beach Hotel | Protaras |
| Omega Villa | Protaras |
| Orcadia Holiday Villa | Protaras |
| Orestiada Apartments | Protaras |
| Orestiada Villa 14 | Protaras |
| Pallini Court | Protaras |
| Pallinio Apartment | Protaras |
| Pallinio Apartments | Protaras |
| Pallinio Court Apartment 202 | Protaras |
| Pallinion Apartment | Protaras |
| Pallinion Apartment Beachfront | Protaras |
| Palm Protaras | Protaras |
| Palm Tree Villas | Protaras |
| Palm Village Villas | Protaras |
| Palma Modern Villa | Paralimni |
| Panorama Villa | Protaras |
| Papantonia House | Protaras |
| Paradise Apartment | Protaras |
| Paradiso Villa | Protaras |
| Passion Villa | Protaras |
| Pearl Villa 14 | Protaras |
| Pearl Villas | Protaras |
| Penelope Beach Hotel | Protaras |
| Penelope Villa | Pernera |
| Pernera Beach Hotel | Protaras |
| Pernera Breeze | Perneras |
| Pernera Luxury Villa 25 | Protaras |
| Pernera Luxury Villa 53 | Protaras |
| Pernera Sunset 1 | Protaras |
| Phoebe Villa | Protaras |
| Photothea Apartments | Protaras |
| Polyxenia Isaak Annex Apartment | Protaras |
| Polyxenia Isaak Luxury Villas and Apartments | Protaras |
| Polyxenia Isaak Pelagos Villa | Protaras |
| Polyxenia Isaak Villa 30 | Protaras |
| Polyxenia Isaak Villa Cynthia | Protaras |
| Polyxenia Isaak Villa Dafni | Protaras |
| Polyxenia Isaak Villa Heaven | Protaras |
| Poppy | Protaras |
| Poros 2 Villa | Protaras |
| Poseidon Penthouse Apartment | Protaras |
| Presidential 6 Holiday Villa | Protaras |
| Profit Elias Apt - 2 bed sea view, central Protaras | Protaras |
| Profitis Elias Hill Top | Protaras |
| Profitis Ilias church view | Protaras |
| Protaras 27 Mediterraneo | Protaras |
| Protaras Central Sunrise | Protaras |
| Protaras Coast Panorama | Protaras |
| Protaras Coral Seafront Suite | Paralimni |
| Protaras Experience 1 | Protaras |
| Protaras Hills | Protaras |
| Protaras Holiday Suite Annie | Protaras |
| Protaras Holiday Villa Alexa | Protaras |
| Protaras Holiday Villa Blue Sea | Protaras |
| Protaras Holiday Villa Crystal Sea | Protaras |
| Protaras L'Azure | Protaras |
| Protaras lovely beach house | Protaras - Paralimni |
| Protaras Luxury Sunny Beach Villa | Protaras |
| Protaras Olive Suite | Protaras |
| Protaras Palm Suite | Protaras |
| Protaras Seashore Villa | Protaras |
| Protaras Seaview Kapparis | ???????? |
| Protaras Tennis and Country Club | Protaras |
| Protaras Varvara Suite 9 | Protaras |
| Protaras View Villas | Protaras |
| Protaras Views Villa PRAM1 | Protaras |
| Protaras Villa Anemoni 6 | Protaras |
| Protaras Villa Delphini | Protaras |
| Protaras Villa Doria | Protaras |
| Protaras Villa Jovanna | Protaras |
| Protaras Villa Loulla | Protaras |
| Protaras Villa Mandali 19 | Protaras |
| Protaras Villa Nicol 2 | Protaras |
| Protaras Villa Nicol 4 | Protaras |
| Protaras Villa Sandy Toes | Protaras |
| Protaras Villa Sofia | Protaras |
| Protaras Villa Villa Protamare | Protaras |
| Protaras Villa Zen | Protaras |
| Regina Villa | Protaras |
| Riverland | Protaras |
| Romeo & Juliet | Protaras |
| Saint Elias Family Home | Protaras |
| Salacia | Protaras |
| Sandrine Villa | Pernera |
| Sanya Apartment | Cyprus |
| SEA DREAM - Brilliant Beach Front Holiday Villa | Protaras |
| Sea Horizon Apartment | Protaras |
| Sea-Breeze Villa | Protaras |
| Seafront Villa Nireas | Protaras |
| Seagull Hotel Apartments | Protaras |
| Seashore Apartment | Protaras |
| Seaside Breeze | Paralimni |
| Seaview Apartment | Protaras |
| Seaview Apartment Protaras | Protaras |
| Secret Gem Apartment | Protaras |
| Secret Paradise | Protaras |
| Shanon Villa | Protaras |
| Shaye Front Line Villa | Protaras |
| Sienna Villa | Protaras |
| Silver Sands Beach Hotel | Protaras |
| Silver Sands Penthouse | Protaras |
| Simona Luxury Villas | Protaras |
| Sirena Bay Holidays | Protaras |
| Sirena Bay Villa | Protaras |
| Sirina Bay Villa | Protasras |
| Sky Blue Apartments | Protaras |
| Smartline Protaras | Protaras |
| Soula Beach House | Protaras |
| Soustis Palm Village | Protaras |
| Spetses Villa 5 | Protaras |
| St. Elias Resort & Waterpark | Protaras |
| Sun & Sand Villa | Protaras |
| Sunny Holiday Apartments | Protaras |
| Sunnyside | Protaras |
| Sunray Apartment | Protaras |
| Sunrise Apartment | Protaras |
| Sunrise Gardens Aparthotel | Protaras |
| Sunrise Residences | Protaras |
| Sunset 7 | Protaras |
| Sunset Holiday Home | Protaras |
| Sunset Villa 16 | Protaras |
| Sunset Villa Protaras | Protaras |
| Sunset Villas Protara | Protaras |
| Sweet Holidays Apartment | Protaras |
| Thalassa 3 bedroom villa | Protaras |
| Thalassa Court Sandy Beach Apartment | Protaras |
| Thalassa Villas | Protaras |
| Thalia Villa | Protaras |
| The Blue Ivy Hotel & Suites | Protaras |
| The Blue Water Bay Villas | Protaras |
| The garden Villa | Protaras |
| The Garden's Little Cozy House | Protaras |
| The Maritime Apartment | Protaras |
| The Princess | Protaras |
| The Protaras Beach Apartments | Protaras |
| Thea Gardens Apartment | Protaras |
| Thea Thalassa Apartment | Protaras |
| Theano Apartment | Protaras |
| Theodora | Protaras |
| Theodoros Apt. 408 | Protaras |
| Timandra Villa | Protaras |
| Tonia Villas | Protaras |
| Trident 4 Luxury Beach Front Suite | Protaras |
| Trident Beach Apartment | Protaras |
| Trinity View | Protaras |
| Tsokkos Gardens Hotel | Protaras |
| Tsokkos Protaras Beach Hotel | Protaras |
| Valentinos Villa | Protaras |
| Vangelis Hotel & Suites | Protaras |
| Velomar | Protaras |
| Victoria Palm | Protaras |
| Vila Ocean Mare | Protaras |
| Villa Adonia | Protaras |
| Villa Agatha | Protaras |
| Villa Aglaia | Protaras |
| Villa Aigli | Protaras |
| Villa Akoya | Protaras |
| Villa Alex | Protaras |
| Villa Alice | Protaras |
| Villa Alicia | Protaras |
| Villa Alina | Protaras |
| Villa Alina Mythical | Protaras |
| Villa Alkionia | Protaras |
| Villa Almond | Protaras |
| Villa Amanda | Protaras |
| Villa Ambrosia | Protaras |
| Villa Amelia | Protaras |
| Villa Amelie - Konnos Beach | Protaras |
| Villa Amy | Protaras |
| Villa Anais | Paralimni |
| Villa Anastasia | Protaras |
| Villa Anatoli 3 | Protaras |
| Villa Angelaise | Protaras |
| Villa Annie | Protaras |
| Villa Annis | Protaras |
| Villa Antonina | Protaras |
| Villa Apostolia | Protaras |
| Villa Aretha | Protaras |
| Villa Ariana | Protaras |
| Villa Ariel | Protaras |
| Villa Aris | Protaras |
| Villa Athina | Protaras |
| Villa Atlantis | Protaras |
| Villa ATREVG3 | Ayia Triada , Paralimni |
| Villa Audrey | Protaras |
| Villa Ava | Protaras |
| Villa Avalon | Protaras |
| Villa Avril | Protaras |
| Villa Bella | Protaras |
| Villa Blue Phoenix | Protaras |
| Villa Blue View | Protaras |
| Villa CAVANT13 | Protaras, Paralimni |
| Villa CAVKON10 | Protaras, Paralimni |
| Villa CAVNER11 | Protaras, Paralimni |
| Villa CAVNER8 | Gavo Greko, Protaras |
| Villa Centrum | Protaras |
| Villa Charlotte | Protaras |
| Villa Christina | Protaras |
| Villa Christina | Protaras |
| Villa Chrysa | Protaras |
| Villa Chrystalleni | Protaras |
| Villa Clematis | Protaras |
| Villa Cliantha | Protaras |
| Villa Clover | Protaras |
| Villa Constantina | Protaras |
| Villa Corina | Protaras |
| Villa Costas | Protaras |
| Villa Crystal 30 | Protaras |
| Villa Cycas | Protaras |
| Villa Daffodil | Protaras |
| Villa Dafna | Protaras |
| Villa Dahlia | Protaras |
| Villa Daisy | Protaras |
| Villa Daisy | Protaras |
| Villa De Costa Pearl | Protaras |
| Villa Delphina | Protaras |
| Villa Despina | Protaras |
| Villa Diamanda | Protaras |
| Villa Dione | Protaras |
| Villa Doris | Protaras |
| Villa Dorothy | Protaras |
| Villa Eden | Protaras |
| Villa Efimia | Protaras |
| Villa Elena | Protaras |
| Villa Eleni | Protaras |
| Villa Elessa | Protaras |
| Villa Elise | Protaras |
| Villa Ellen | Protaras |
| Villa Ellison | Protaras |
| Villa Elpida | Protaras |
| Villa Eponine | Protaras |
| Villa Erin | Protaras |
| Villa Erinna | Protaras |
| Villa Euphoria | Protaras |
| Villa Falcon | Paralimni |
| Villa Fania | Protaras |
| Villa Fay | Protaras |
| Villa Florence | Protaras |
| Villa Florie | Protaras |
| Villa Galena | Protaras |
| Villa Georgia | Protaras |
| Villa Georgia | Protaras |
| Villa Grace | Protaras |
| Villa GREBY2 | Cavo Greco, Protaras |
| Villa GREBY4 | Cavo Greco, Protaras |
| Villa GREBY5 | Cavo Greco, Protaras |
| Villa GREBY6 | Cavo Greco, Protaras |
| Villa Greco Mare | Protaras |
| Villa Greenway | Protaras |
| Villa Hart | Protaras |
| Villa Hayley | Protaras |
| Villa Holly | Protaras |
| Villa Hollywood | Protaras |
| Villa iA | Protaras |
| Villa Ifigenia | Protaras |
| Villa Imperial | Protaras |
| Villa Inessa | Protaras |
| Villa Infinity Protaras DPS-H01 | Protaras |
| Villa Ithaca Protaras | Protaras |
| Villa Ivy | Protaras |
| Villa Jakob | Protaras |
| Villa Janet | Protaras |
| Villa Jasmine | Protaras |
| Villa Jenna | Protaras |
| Villa Jenny | Protaras |
| Villa Joanna | Protaras |
| Villa Jorja | Protaras |
| Villa Julie | Protaras |
| Villa K7 | Protaras |
| Villa Kacey | Protaras |
| Villa Katerina | Protaras |
| Villa Katia | Protaras |
| Villa Katia 15 | Protaras |
| Villa Kody | Protaras |
| Villa Kos 19 | Protaras |
| Villa Kos 8 | Protaras |
| Villa KPPOS18 | Protaras |
| Villa KPPOS20 | Protaras |
| Villa Lalia | Protaras |
| Villa Larisa | Protaras |
| Villa Lea | Protaras |
| Villa Leona Near Konnos | Protaras |
| Villa Leonidas | Protaras |
| Villa Levanda 31 | Paralimni |
| Villa Lilian | Protaras |
| Villa Lito | Protaras |
| Villa Lombardi | Protaras |
| Villa Loukia | Protaras |
| Villa Lyda | Protaras |
| Villa Lydia | Protaras |
| Villa Lyris | Protaras |
| Villa Mabel | Protaras |
| Villa Mandali | Protaras |
| Villa Margarita | Protaras |
| Villa Margarita 2 | Protaras |
| Villa Margarita View | Protaras |
| Villa Mariada | Protaras |
| Villa Marilena | Protaras |
| Villa Marilia | Protaras |
| Villa Marizan | Protaras |
| Villa Martina | Protaras |
| Villa Marylou | Protaras |
| Villa Melina | Protaras |
| Villa Mesogios 11 | Protaras |
| Villa Michelle 2 | Protaras |
| Villa Michelle 7 | Protaras |
| Villa Mila | Protaras |
| Villa Minna | Protaras |
| Villa Mylos 7 | Protaras |
| Villa Mylos 8 | Protaras |
| Villa Nadia | Protaras |
| Villa Nadja | Protaras |
| Villa Nancy | Protaras |
| Villa Nausica | Protaras |
| Villa Nautilus | Protaras |
| Villa Nektaria Green Bay DPSV308 | Protaras |
| Villa Nicol 31 | Protaras |
| Villa Nicol Protaras | Protaras |
| Villa Nicole | Protaras |
| Villa Niki | Paralimni |
| Villa Nina | Protaras |
| Villa Nora | Protaras |
| Villa Oasis | Protaras |
| Villa Oasis | Protaras |
| Villa Olivia | Protaras |
| Villa Orion | Protaras |
| Villa Orka | Protaras |
| Villa Orpheya | Protaras |
| Villa Oscar | Protaras |
| Villa Ourania | Ayia Triada |
| Villa Palm Breeze | Protaras |
| Villa Panorama | Protaras |
| Villa Paros | Protaras |
| Villa PEBLR1 | Pernera, Paralimni |
| Villa PEDAP30 | Pernera |
| Villa PEDAP6 | Protaras, Paralimni |
| Villa PEELE2 | Pernera, Paralimni |
| Villa PEORA30 | Pernera, Paralimni |
| Villa PEORA40 | Pernera, Protaras |
| Villa PEORA46 | Pernera, Paralimni |
| Villa PEORA47 | Pernera, Paralimni |
| Villa PEORA50 | Pernera, Protaras |
| Villa PEPEL1 | Pernera, Paralimni |
| Villa PEPEL10 | Pernera, Protaras |
| Villa PEPEL2 | Pernera, Paralimn |
| Villa PEPOL13 | Pernera |
| Villa Posidonas | Protaras |
| Villa Posidonas 3 | Protaras |
| Villa Posidonas 9 | Protaras |
| Villa PRCAS3 | Protaras, Paralimni |
| Villa Princess Anna | Protaras |
| Villa PRJSNA6 | Protaras, Paralimni |
| Villa PRJSNH2N6 | Protaras, Paralimni |
| Villa PRMEA11 | Protaras |
| Villa PRMEA22 | Protaras, Paralimni |
| Villa PRMEA36 | Protaras |
| Villa PRMEA4 | Protaras, Paralimni |
| Villa PRMEA41 | Protaras |
| Villa PRMEB8 | Protaras, Paralimni |
| Villa PRPAH1 | Protaras, Paralimni |
| Villa PRPAR18 | Protars, Paralimni |
| Villa PRYMV2 | Protaras |
| Villa Raflia | Protaras |
| Villa Ricky | Protaras |
| Villa Saint Elias | Protaras |
| Villa Saint Nikolas | Protaras |
| Villa Samos | Protaras |
| Villa Sirena Blue | Protaras |
| Villa Skyros | Protaras |
| Villa Sobella | Protaras |
| Villa Sofia | Protaras |
| Villa Sophia | Protaras |
| Villa Sophia Maria | Protaras |
| Villa Sophia Rose | Protaras |
| Villa Soraya 2 | Protaras |
| Villa Soraya 3 | Protaras |
| Villa Sotiamare | Protaras |
| Villa Sotmarie | Protaras |
| Villa St. George | Protaras |
| Villa Summer 4 You | Protaras |
| Villa Sunset | Protaras |
| Villa Teal Blu | Protaras |
| Villa Tessa | Protaras |
| Villa Thalassa by The Beach | Protaras |
| Villa Thalia | Protaras |
| Villa Thelma | Protaras |
| Villa Tinos | Protaras |
| Villa Topaz | Protaras |
| Villa Triada | Protaras |
| Villa Tulisa | Protaras |
| Villa Tyra | Protaras |
| Villa Valeria | Protaras |
| Villa Vania | Protaras |
| Villa Velma | Protaras |
| Villa Verity | Paralimni |
| Villa Vibrance | Protaras |
| Villa Virtoria | Paralimni |
| Villa Wade | Protaras |
| Villa Willow Mandali | Protaras |
| Villa Willow Mandali | Protaras |
| Villa Xenia | Protaras |
| Villa Yelena | Protaras |
| Villa Yvonne | Protaras |
| Villa Zoey | Protaras |
| Vrissaki Beach Hotel | Protaras |
| Vrissiana Beach Hotel | Protaras |
| White Pearl Villa | Paralimni |
| Windmills Hotel Apartments | Protaras |
| Zacharia Villas | Protaras |
| Zelia Villa | Pernera |
| Zouvanis Luxury Villas | Protaras |