Larnaca Beaches Cigarette Cleanup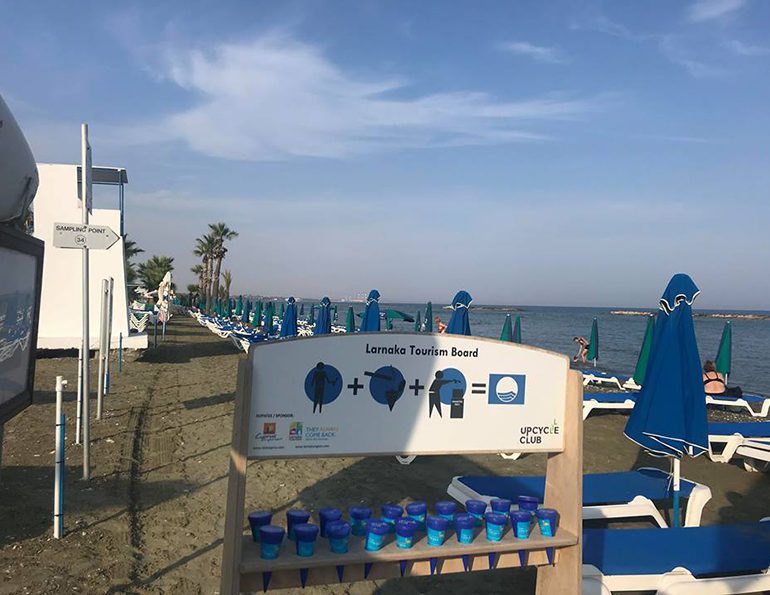 Larnaca municipality is placing more eco-ashtrays along its beaches this summer after last year's success with the same initiative.
During the period from June to September 2017 a total of 98,490 cigarette butts were collected on ten beaches in the area, the Larnaca Tourism Board announced on Wednesday, saying "this clearly had positive impacts on the quality of the sands of our beaches".
The action is carried out by the board in cooperation with the Cyprus Tourism Organisation (CTO), the municipality and other local authorities and is aimed at upgrading the quality of the beaches and enhancing the tourist product of the city.
The initiative also contributes to environmental awareness.
Last year, ten stands with the biodegradable plastic cups were stationed at strategic points on the town's busiest beaches, each with written instructions, 100 ashtrays and a special waste bin.
For the current season, ecological ashtrays have been placed on the beaches of phinikoudes and Castella, near the hotels of Tassos Mitsopoulos avenue, the Giannades of Voroklini, Voroklini beach, at the Pervolia lighthouse, the Caretta beach in Kiti, and beaches around Pyla.
Visitors can pick up the plastic ashtray-like cones and stick them in sand or pebbles for the duration of their stay. When leaving, smokers are expected to empty their ashtrays in the bin and put them back on the stand
The cigarettes are collected at regular intervals, weighed and at the end of the tourist season they are recorded to be presented at the annual meeting of the National Blue Flag.
The action is aimed at fighting pollution as cigarette butts ends up being unintended food for much marine fauna and can be deadly for marine species.
According to official data, it is estimated that more than five trillion butts are thrown away at beaches globally every year.
Unlike paper and tobacco which are biodegradable, a filter is made up of 95 per cent synthetic cellulose acetate polymer, a substance that breaks down very slowly and thus damages the environment for a long time.
A cigarette butt may take up to five years to break down into seawater, while polluting the water with poisonous chemical substances such as cadmium, arsenic and lead.
In addition to environmental pollution, cigarette butts are an ugly sight for tourists and locals and reduce the level of quality of the beaches.
Find cheap Hotel Deals in Larnaca: