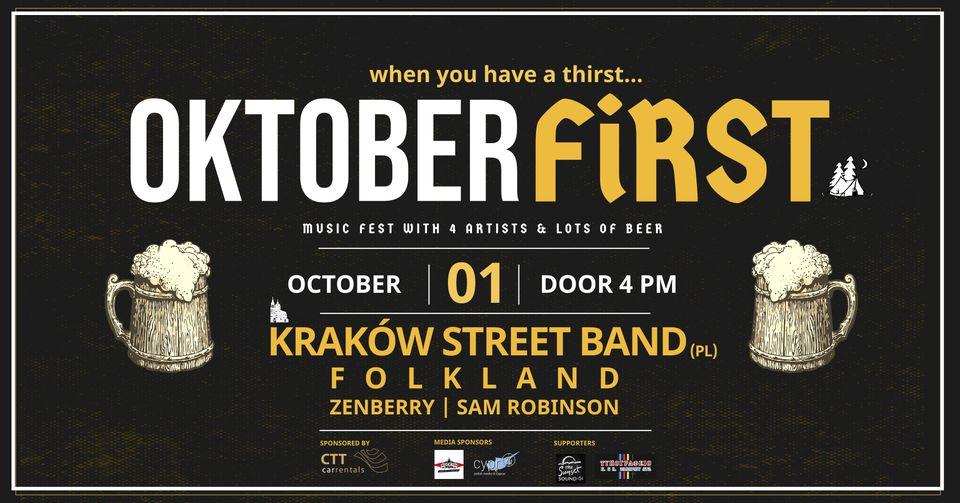 PET FRIENDLY! Authentic Mongolian Yurts set in 2.5 acres of peaceful seclusion, facing the spectacularly setting sun. Unique sustainable B&B. Glamping.
Time & Location
01 Oct, 16:00 EEST – 02 Oct, 11:00 EEST
Simou, Simou, Cyprus
About the Event
This is really the last one 😉 and we DO need your help to end the season in style.
Enjoy the afternoon and evening listening to 4 live artists/bands and connecting with the surrounding nature and like-minded people. It is a HAPPENING. Our open-air concert area is huge and you will be able to enjoy the sunset as well as the starlit sky! ✨
In the style of any great outdoor venue you'll be able to buy your favourite potions (adult beverages; beers, wines and soft drinks), snacks & light meals (including vegan/vegetarian) from our outlets.
? Advance Reservations are advisable with a ticket sale of €20. Door price €25
All Ages Welcome! Ages 10 and under admitted free, under 18 – €10
Kids must be supervised by parents at all times.
TICKET SALE:
https://www.yurtsincyprus.com/event-details ?
THE TICKETS ARE NON-REFUNDABLE.
INFO: +357 97629148
♻️ This IS A PLASTIC-FREE! Please bring your WATER FLASK to fill it at the venue for free.
? Single use bottles are a NO NO, you won't get them past the gate ☣️
? Friendly Dogs on a leash – please have in mind noise levels, so find a spot away from the loud speakers.
? Rain or Shine
⛔️ NO OUTSIDE FOOD OR DRINKS ⛔️
⚠️ NO high heels ⚠️
? Bring your low-backed sun chairs, cushions or blankets for extra comfort.
?Reduce carbon footprint, save on travel expenses and meet new friends:
? ACCOMMODATION:
FREE CAMPING at the venue for advance tickets holders.
Bring earplugs – the music will blast until late. Shower and toilet facilities available for the happy campers.
– Theano Skarfos River Park – just down the road
– https://www.facebook.com/Lasa-villas-106961401261095 – 7km
– Paradisos Hills Hotel Lysos 26322287 – 8km
– Marmaras Guest House Lysos 26 221216 – 7km
– Lasa Heights Hotel 26732777 – 7km
– Ayii Anargyri Spa Resort Miliou 26814000 – 12km
– Polis Camp Site – 19km
– Nearby villages also offer accommodation (look up Airbnb/Booking.com)
L I N E  U P :
KRAKOW STREET BAND
Krakow Street Band is a proud representative of the city of Cracow and Poland's music scene for listeners from Poland and abroad. Since the group's formation in 2014 they keep a steady pace, gaining popularity with each month. Right now they're touring with their third album, "Going Away", based entirely on original material. It consists of 11 lively but unpretentious songs, neatly balancing between contemporary folk, jazz and blues. The beautiful acoustics of Radio Kraków's studio allowed to capture nuance in the music of this lively ensemble, which has evolved quite a bit since their street beginnings. "Going Away" recieved a nomination for the Blues/Country category of 2019 "Fryderyk" award, the most prestigous music award in Poland.
Kraków Street Band came to life in the spring of 2014, and at first the band's whole activity was confined in the inviting space of Cracow's main square. Soon enough, an idea appeared to record the band's first album – funded by means of an extremely successful crowdfunding campaign, finished with 170% of the planned amount. And this was just the beginning… Then, the band got to the finals of Must Be The Music, a talent show with millions of viewers, with excellent opinions from the jury on all stages. In the annual survey of Poland's most renowned blues magazine "Twój Blues", Kraków Street Band won "Discovery of the year" 2014 and "Band of the year" 2015. In 2015 they released their second, exceptional album recorded in Radio Kraków – "Dedicated To Jerzy Wójcik", honoring the memory of Poland's first bluegrass musician. Songs from the repertoire of Little Ole Opry, Wójcik's band, were recorded in new versions by Kraków Street Band with Krystyna Święcicka-Wójcik and guests.  In march 2018, after winning the Polish Blues Challenge, Kraków Street Band represented Poland on the most prestigious Blues competition in Europe – European Blues Challenge in Hell (Norway). A month later, individual musicians were awarded prizes in 2017's Twój Blues survey – Łukasz Wiśniewski and Tomek Kruk were voted "vocalist of the year" and "guitarist of the year", respectively. In January 2019 "Going Away" was nominated for "Fryderyki" award in the Blues/Country category. And all this comes as no surprise – Kraków Street Band's performances burst with passion and raw happiness, and the musicians themselves… see for yourself in their self-made music video "Fluke"!
FOLKLAND
Contemporary folk project by Cyprus based musicians.
More info to follow.
Kevin  Abraham – guitar, vocal
Clare Hurrell – violin
Ian Richard Cole – banjo
Maciej "Magic"Kielak – accordeon, tin whistle
Alex Papadopoulos – cajon, percussion
ZENBERRY
More info to folow.
SAM ROBINSON
More info to folow.
☀️ THANK YOU! ☀️
? The event will be amplified by The Sunset Sound, so expect crisp tunes!
? Media sponsor: Rock FM 98.5 Paphos, Paphos Music Lovers
? Directions:
From Pafos – follow B7 to Polis
After Giolou village turn RIGHT to Simou.
500m before Simou turn left to Sarama
Drive down to the bottom of the valley (about 2.5km) until you come to a narrow bridge.
Turn right immediately after the bridge onto a track to Sarama.
Wiggle wiggle for 250m and take first left to Sarama.
Then after 50m of uphill take first LEFT – You're there!
IF you follow SatNav, Google Maps etc. – it's you responsibility ?