'Steady progress' on Ayia Napa marina, says developer
More than 55 per cent of the residential properties in the Eastern Tower of the Ayia Napa marina project, have already been sold, developers of the project said on Wednesday in a progress report on the €220 million project.
The project, in which the Egyptian investor Naguib Sawiris' Gemini Real Estate Ltd has an 80 per cent stake and the Cyprus-based Caramondanis Group a 20 per cent stake, is scheduled to be to be completely finished by 2021. The marina itself will be operating by the summer of 2019, the developers said in an announcement after the onsite presentation.




The second phase includes the construction of 190 luxury one-to-four-bedroom apartments in two twisting-shaped towers of 25 and 26 floors. There will also be 29 luxury villas, shops, restaurants and other amenities. The Eastern Tower is expected to be finished in 2020 and the West Tower in 2021.
More than 55 per cent of the properties in the Eastern Tower have been sold.
"Work is progressing steadily," the announcement said and was following the construction timetable. The first stage, which began in September 2016 was concerned with the construction of the port and infrastructure projects, the main arm of which has been completed.
A new sales office is also ready to open, the developers said, where visitors and interested investors can access plans, photos and videos. They will also be able to tour the site with virtual reality "in order to understand in the best possible way the experience that Ayia Napa marina will offer to future occupants and visitors".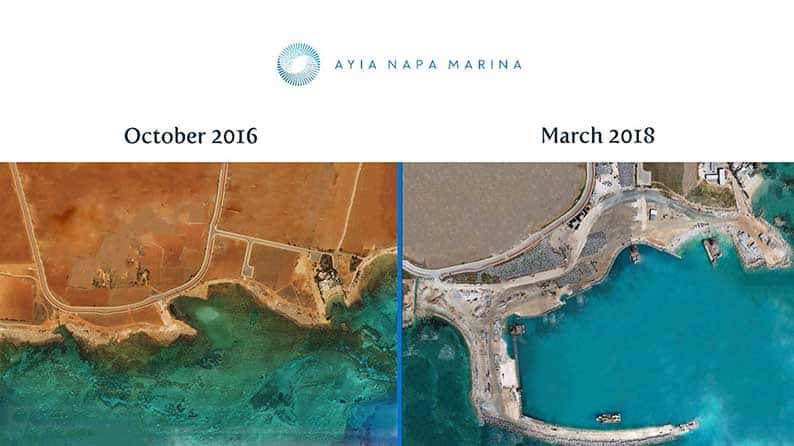 The project, according to the developers, has already gained international acclaim and was attracting growing interest from investors and buyers.
"The Ayia Napa marina is the most significant development taking place in the Famagusta area, and one of the most ambitious development projects in Cyprus," the announcement said.
"With its completion, it is expected to upgrade both the region and the national tourism product, serving as a lever to attract and develop the local economy and promoting the image of Ayia Napa as a destination of quality tourism."
There are currently three marinas in Cyprus – Limassol, St Raphael, Larnaca – but there are plans for the construction of two more, in Paphos and Paralimni, while the one in Larnaca, which is adjacent to the port, is due to be completely re-built.