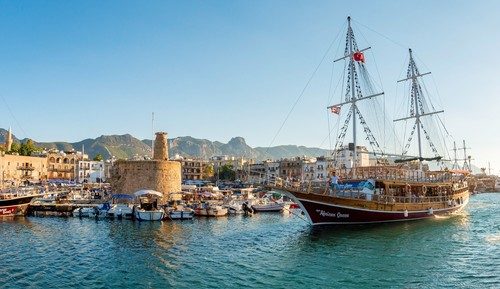 Girne, the jewel of Northern Cyprus, is said to be the oldest settlement on the island. If you ever want to set off on a journey to discover Northern Cyprus, the historical city of Girne should be your first destination
The dazzling harbor of Northern Cyprus, Girne, also known as Kyrenia, has been the heart of the island as an important place of defense and trade. Surrounded by mountains that give an opportunity to escape from hot island weather, the port city is established around the mighty Venetian castle that still stands today.
Established in the 10th century BC by the first Greek invaders of Cyprus, the Mycenaeans, Girne is a settlement with the longest history of continuous occupation compared to anywhere else on the island.
For explorers, Girne offers much to see. It is possible to trace the remains of previous civilizations while you can enjoy the Mediterranean climate with a cold drink on the beach. If you happen to find yourselves on the shores of Girne, here is a list of places that you should see before leaving:ST. HILARION CASTLE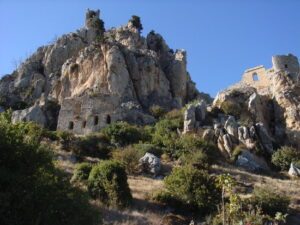 Although there is no clear evidence behind this, the castle is said to be named after St Hilarion, a little-known hermit and monk who fled persecution from Palestine during the 7th century. The castle became his residence when he arrived. According to legend, he was deaf and resilient to the shrieks of pagan demons that had been lurking and wandering about in the mountain peaks. Disgusted at their inability to make him go, they left the mountain in peace. During the 10th century a Byzantine chapel, monastery and later a fort were established around his tomb.
After centuries of renovations and additions, today St. Hilarion Castle has nine bastions above 500-meter-high walls. It has been transformed into a beautiful museum with its modern contemporary technique, exhibition system and the additions of the use of that era that reflected on the castle.
KYRENIA CASTLE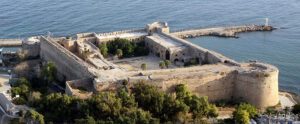 The castle was built in a rectangular shape. After the Ottomans conquered the castle in 1570, instead of drawbridges that provided access to the castle, they built stone bridges that harmonized the castle's structure and are still used today. There are many interesting historical monuments to be seen in the castle museum. Ottoman chief admiral, Algerian Sadik Pasha's grave is at the entrance of the castle. Pieces of various periods exhibited in the bastions of the castle are worth seeing. You feel like you are living in those days when you visit the exhibitions of the early ages. Concerts are organized in the grand inner courtyard of the Kyrenia Castle.
Buffavento Castle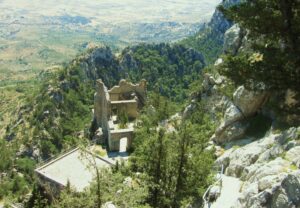 Located 954 meters above the Beşparmak Mountains, the castle was built to defend and warn the island against Arab raiders. It was built by the Byzantines and named "Buffavento" because of the wind. Accessing from the ridge with a beautiful paved road, you can into the castle after climbing steep set of stairs. After visiting the castle, do not forget to make a wish while passing under the "Kayaköprü"(Rockbridge), a natural formation located on the left of the road.
ANTIPHONITIS MONASTERY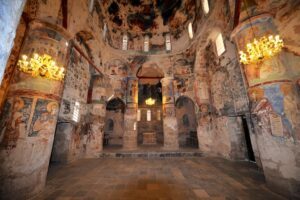 The monastery, located in the small valley of the Besparmak Mountains in the east of Girne, is called "Jesus who answers." The church of the monastery has the features of Byzantine architecture and has eight columns. The interior walls, covered with pictures and Jesus figures on the dome are worth seeing. This monastery, which can be reached via a beautiful road, serves as a museum today. The orchids and endemic plants in the garden attract a lot of attention, especially in the springtime, and is also part of the "Nature Walking Routes" of Northern Cyprus.
THE ANCIENT CITY OF LAMBUSA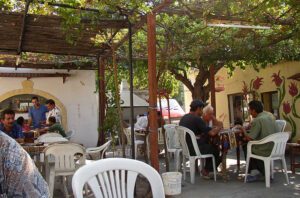 Lambusa (Lapitos), one of the most important cities of the Kingdom of Cyprus was founded by the Achaeans returning from the Trojan War. The city, which means "bright," was founded in Lambusa where abandoned settlements of the Lusignans have also been discovered. The tombs, the queen pool, the city walls can be visited as well as an open air museum.
BELLAPAIS MONASTERY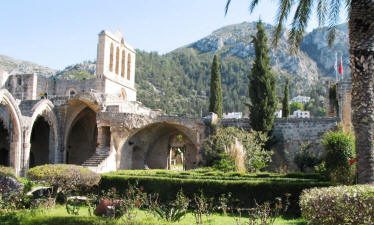 Bellapais Monastery, "the Abbey of the Beautiful Peace," is an Orthodox monastery in the famous Beylerbeyi Village. Also known as Bellapais Abbey, the monastery is set on the flanks of the Beşparmak Mountains. As a former home of British writer Lawrence Durrell (1912-1990), Bellapais Abbey is a Northern Cyprus highlight that should not be missed by any visitor.
The abbey was said to be originally established as St. Mary of the Mountain just after 1200 by Augustinian canons fleeing their kingdom of Jerusalem. Thierry, Archbishop of Cyprus, and a man behind the construction of the Hagia Sophia in Nicosia, persuaded the Augustinian order to adopt the rule that arose in Premontre in northern France. Bellapais Abbey was also known as White Abbey because of the white habits worn by monks. Under Thierry's guidance the abbey became prosperous and significantly influential. When the Genoese overran the island in 1373, the abbey fell into neglect. The treasury was smashed open and the abbey's wealth was plundered including a piece of the cross. The monastery became one of the victims of the onslaught and faced both a moral and physical decline.
KYRENIA MARINA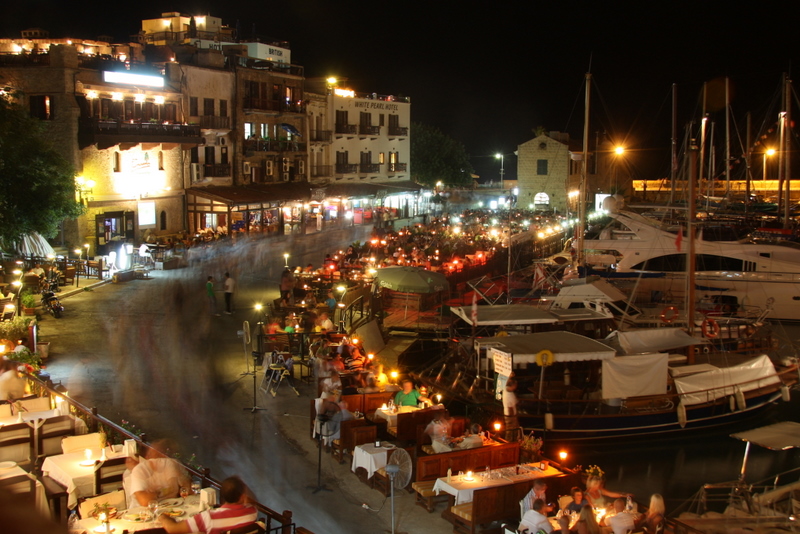 The Kyrenia, between the Mediterranean and Beşparmak Mountains,was founded in the 10th century. The port is the most beautiful place of the city and is surrounded by old Venetian houses, restaurants and taverns. Kyrenia, which has a unique beauty, is especially filled with colorful fishing boats and luxury yachts in the summer months.