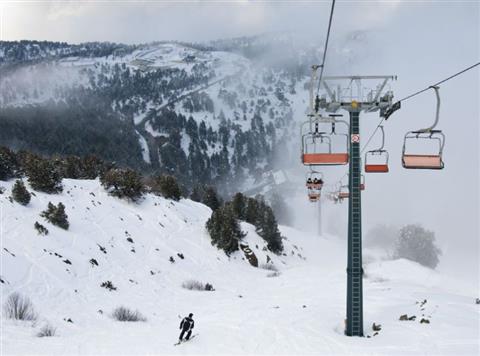 Skiing in Cyprus?! Because it's so famous for being a beach resort, very few people know that it's possible to ski here! That's the wonderful thing about this island; it has the ability to just keep on surprising you!
In fact, the sport was actually introduced to Cyprus in the 1930s and has now become so prominent that the nation is represented in the World Championships and at the Olympics. The Cypriot team in the 2005 Special Olympic winter games in Japan won seven gold medals as well as several silver and bronze.
In 1992, the Cyprus Ski Federation was founded, which represents Cyprus in the International Ski Federation. Its members are the four ski clubs of Cyprus – Troodos, Limassol, Famagusta and Nicosia. The Troodos Ski School offers cheap group or private ski lessons to adults and beginners. There are also ski passes available to buy on a full or half day basis.
Where/when can I ski in Cyprus?
The best place for skiing in Cyprus is the Troodos Mountains, with the main trails centred around Mount Olympus. Two ski lifts are installed on Mount Olympus itself, aptly named Zeus and Hera.
There are a further two ski lifts, named after Aphrodite and Hermes, located at the Sun Valley Centre. Zeus, being the king of the Gods, leads to the highest and most advanced trail. Hermes will take you to an intermediate track, while the two goddesses lead you to beginners' slopes.
The winter sports season in the Troodos lasts from December to April and the best snow for skiing usually falls in January. Because winters are so mild in Cyprus, it is even possible to ski and swim on the beach on the same day! Talk about having your cake and eating it too!
If you plan to ski for most of your trip it is advisable to stay in one of the lodgings within the Troodos Mountains, as the slippery mountain roads can be hazardous at this time of year.
Cyprus Ski Equipment
It is possible to rent ski equipment at the centres on Sun Valley and Mount Olympus, but it's important to know that these are available on a first-come, first-served basis.
It's worth arriving early, especially on busy weekends, if you are planning to rent in order to get the more up-to-date equipment. Leave it too late and you may well end up with stuff that should probably be confined to a museum!
If you want to snowboard or go skiing in Cyprus, you may also wish to visit one of the four snow equipment shops in Nicosia, such as Mavros Sports in Ledra Street, or Force 8 Sports located in Limassol on Roosevelt Avenue.