Running a "Special Offer"?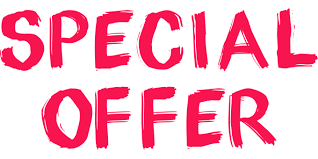 Running a special offer to attract customers? If you want your promotion to be a success, you need to get your offer in front of prospects who are interested in it.
Today, more and more small businesses in Cyprus are interested in running offers, as a way to get new customers. The key to the success of this type of campaign is finding a way to get your offer in front of the right people—that is the people who will likely to act on it, and ultimately help you grow your business by becoming a new loyal customer. What's the best way to get in front of the right type of people? Having your offer shared LOCALLY is important! (Nobody in the middle of Alaska will make use of a Free Coffee and Cake if you offer this in Paris)
If you are running a Special Offer Campaign send us the Details and we will blast it out to our large Subscriber List on www.govisitcyprus.com
No Cost to you.
Send us:
Promotion Name (i.e. Buy 1, Get 1 Free – Wacky Wednesday Discount – OAP Special – Free Wine with Meal or similar)
Promo Code (if available, this is optional)
Full Description of offer or special ( the better the description with keywords the better it will show up on Google, if you need help with keywords for your promotion let us know, we can help.)
Price of the Special (important!)
Any Restrictions or additional Remarks

Our Subscribers are only interested in Cyprus Offers, so the Market is very focused and localized.
No Cost to you.
Or fill out this short form to let us (and our subscribers) know about it!

Keys:special offers, promotion, cyprus, paphos, limassol, ayia napa, larnaca, protaras, nicosia, famagusta