Weddings in Cyprus.POLITICS ASIDE, PLEASE!!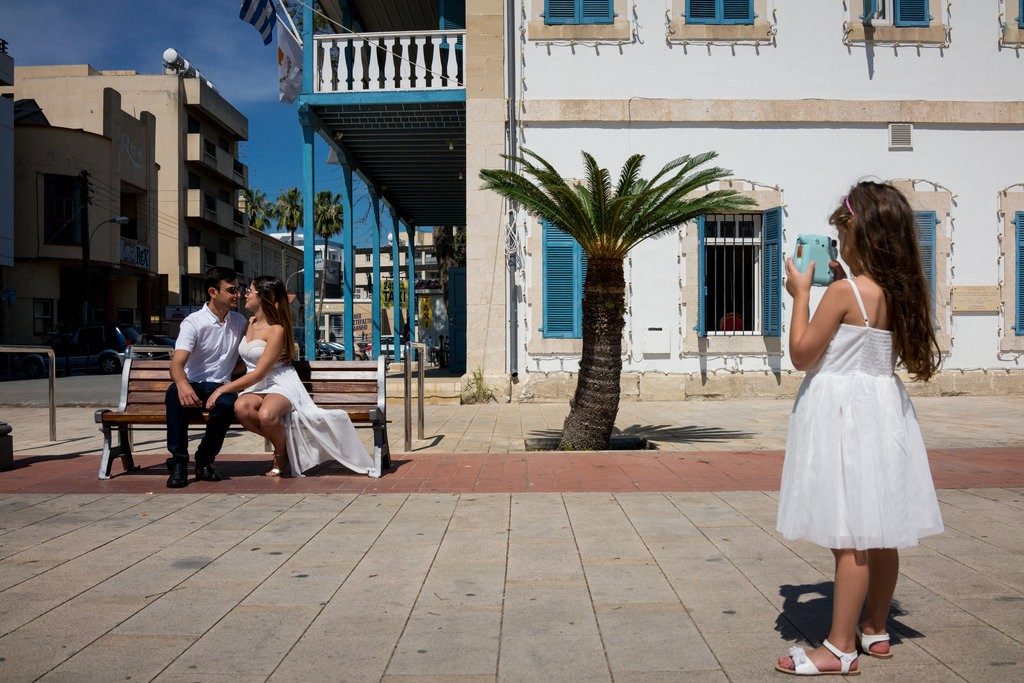 With Weddings in Cyprus, Israelis and Lebanese Bridge a Divide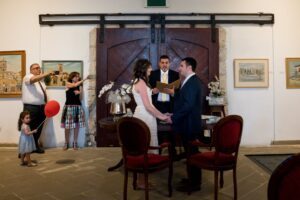 They eat falafel, live on the Mediterranean and worry that a new war could erupt across the hostile border that separates them. But many Israelis and Lebanese share something else: a desire to circumvent their respective religious authorities when getting married.
In both Lebanon and Israel, only religious leaders can perform marriages, so lovers who wish to keep the rabbis, sheikhs, priests and pastors out of their love life have to tie the knot elsewhere.
That has been a boon for this sun-drenched beach town on the southern coast of Cyprus, where the municipal authorities provide fast civil marriages to anyone who shows up, provides the right paperwork and pays the fee.
And since most of those taking advantage of the local civil marriage industry are from Israel and Lebanon, the marriage bureau — in a modest, accidental way — bridges one of the Middle East's deep divides.
On any given day, lovers from the enemy nations stand in line together, offer one another congratulations and sometimes socialize unwittingly in the municipal coffee shop while waiting for their appointments to wed.
"Where are you from?" a Lebanese bride asked a wedding party at an adjacent table one morning.
"Israel," a man in the party responded. The bride's eyes widened. She murmured that she was from Lebanon.
"Ahlan wa sahlan," the Israeli man said, Arabic for "welcome."
"Are you getting married today?" the Israeli bride asked.
The Lebanese bride nodded.
"Congratulations, and good luck," the Israeli bride said.
Later, the Lebanese couple asked that their names not be published for fear of legal trouble at home, where interactions with Israelis can be treated as a crime.
"The media around you, they say it is forbidden to be in the same place, that they are the enemy," the Lebanese bride said. "But they are people, too."
Officials in Larnaka are aware of the tension between Israel and Lebanon, the result of numerous wars over the decades, but say it has never caused problems at the marriage bureau.
"It is a neutral city here," said Georgios Lakkotrypis, a member of the Larnaka municipal council who is also a volunteer marriage officer. "Is it the weather? Is it the sun? Maybe, but it makes everybody happy."
Cyprus owes its rise as an international marriage destination to geography, economics and law. Its airports receive direct flights from cities across Europe and the Middle East; its prices are good; and its laws permit foreigners to contract marriages with no clerics involved.
And its palm-studded beaches, historic sites and abundant hotels are inducements for couples to start honeymooning as soon as the ink on their marriage contract is dry.
About 7,000 marriages are conducted in Cyprus per year, adding 1 million euros, or over $1.1 million, to the economy annually, according to the Cyprus Tourist Organization. While European lovers prefer more picturesque towns elsewhere on the island, Israelis and Lebanese tend toward Larnaka, which can be reached by air from both Tel Aviv and Beirut in less than an hour.
The trip is so easy that couples who are short on cash or time often arrive in the morning, get hitched and fly home in the evening, squeezing in a fancy lunch or a beach visit if they can.
The bureau itself is in a historic building near the town center that has been converted into a museum and art gallery.
Two hard-working women handle the business side, fielding emails from interested couples from a range of countries, vetting their paperwork and assigning appointments for ceremonies. Their office alone handled 1,110 marriages in 2017, said Paraskevi Anastasiou, a marriage officer. She expects the number to rise this year.
Those wishing to marry must provide birth certificates, prove they are not married to anyone else and pay €281.90. For a bit more, they can get extra certificates or be married off-site, say, on the beach or at the town's medieval castle.
The office does not marry first or second cousins, or lovers who are underage or visibly intoxicated. It is not authorized to perform same-sex marriages, although another office nearby does civil unions.
Most Israelis marrying in Cyprus do so to avoid the country's Orthodox Jewish religious establishment, either because they don't want a religious ceremony or because they follow different faiths and do not want either partner to have to convert.
"Since he's Jewish and I'm Catholic, we can't get married in Israel," said Marcia Teresa Bacus Garcia, a bride from the Philippines who was marrying her Jewish Israeli husband.
Once their paperwork had been vetted, they entered the marriage hall, a high-ceilinged room with wood rafters, art on the walls and a few rows of red chairs for wedding parties.
The couple had come alone, so they set up two cameras on tripods to document the occasion.
"We call it self-paparazzi," said Marian Plotkin, the groom.
Standing behind a wooden table and a silver vase holding fake white orchids, Michalakis Mallas, the marriage officer on duty that day, welcomed them, told a brief story from Cypriot history and asked them to face each other.
Without mentioning God or religion, he told them to love and support each other, to raise good children and not to marry anyone else lest they be guilty of bigamy. The bride choked up during the vows, and he handed her a box of tissues.
The bride and groom said, "I do," kissed and signed their contract.
It was over in less than six minutes, but the couple was pleased.
"It was short but emotional," Ms. Garcia said as they packed up their cameras and tripods to begin their vacation.
Mr. Mallas, who had officiated, estimated that he had done about 2,600 marriages in his seven years on the municipal council, including a wedding for 81 Israeli couples who got married at the same time.
He had seen it all and developed a sense for cultural preferences.
The Lebanese liked wild parties, while Russians liked classical pomp, he said. Valentine's Day was often a nightmare, and on Nov. 11, 2011 — or 11/11/11 — he performed 26 weddings because so many couples had wanted to get married that day, for numerological or other reasons. He had to intervene in an argument between two couples about who got the 11:00 slot, he said.
But most ceremonies were fast, simple affairs, and he tried to make them meaningful even if they ran together in his mind.
"You have seen 'Casablanca,' with Humphrey Bogart?" he said, giving a hat tip to the famous movie misquotation "Play it again, Sam."
"That's how it is."
Marriage in Lebanon is handled by clerics from the country's range of religious sects, leaving no domestic marriage option for couples from different faiths or who want to leave out religion all together.
And some Lebanese couples prefer Cyprus because it is easier and cheaper than getting married at home, where some clerics require premarital classes and there is often social pressure to throw large, costly parties.
Dany Naim and Sabine Kamel are both Maronite Christians and so could have gotten married at home, but decided that getting hitched in Cyprus would be easier.
"It's a simple kind of marriage," Ms. Kamel said.
For some couples, sharing the facility with couples from an enemy country they cannot visit adds to the day's novelty.
During one Lebanese wedding, an Israeli group waited at the back of the hall, clapped when the couple was declared husband and wife, and exchanged congratulations with them as they left.
"It's important for me to meet my neighbors and to get to know them, because I feel that I am part of the region and I don't want to be a stranger," the Israel groom, Avner Dvir, said after his own ceremony.
"We are very close and we are hoping for peace, most of us," said his bride, Karem Magdasi.